POP-UP
We look forward to meeting you in person.
SHOHEI Team
Lisa, Sho, Yi & Miyuko
Each customer who buys SHOHEI products above Yen 25.000 will receive a free drink at TRUNK(HOTEL) main lounge, the TRUNK(LOUNGE)..
We will keep the number of visitors who enter the shop below 5 people, to have all visitors at the shop wear a face-mask and of course disinfection spray will be provided. You will be able to pay by card too.
Saturday,14th August 2021
11:00 – 21:00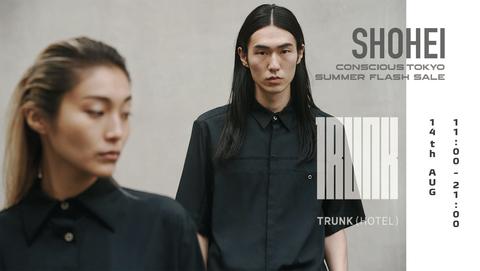 SHOHEI Summer Flash Sale
CONSCIOUS TOKYO
@ TRUNK(HOTEL)
View previous POP UP EVENS in Tokyo, Vienna and Carin